News
Wednesday March 16th, 2011 by Rick van Kemenade
The Satori study tour received attention from the Cursor, the TU/e's periodical. The piece includes an interview concerning the situation in Japan at the moment. Read the article here.
Thursday September 16th, 2010 by Giel Op 't Veld
University newspaper Cursor has featured the Satori Study Tour in its latest issue. Photographer Bart van Overbeeke visited our sushi workshop last Tuesday. Not everyone was as enthusiastic about sushi as we were, but even the people who didn't like fish enjoyed themselves. Do note that it will probably taste a lot better in Japan than from us. Interested in the real experience? There is only one way to find out!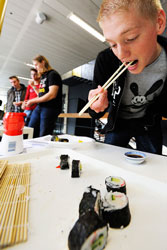 You can read the full issue here (hint: skip to page 14). And don't forget to pick up your application form! Registration closes Friday the 24th!